Beyond the Nest Reviews Geva's Sister Act
-by Carol White Llewellyn
Sister Act opened on Saturday, June 25 at Geva Theatre Center to a packed house.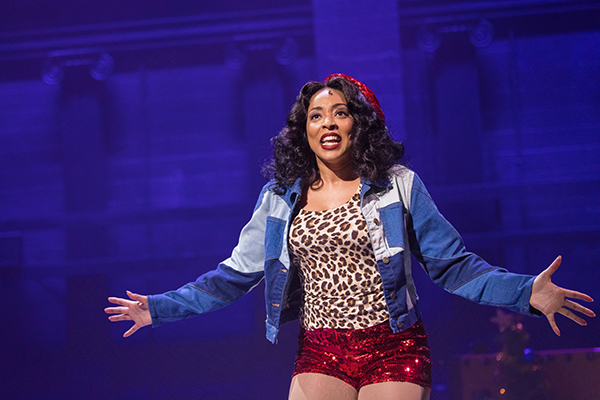 For those who may not have seen the movie upon which this play is based, Sister Act is the story of vivacious and audacious Delores Van Cartier, originally played by Whoopi Goldberg, who has accidentally witnessed a murder carried out by her gangster boyfriend Curtis. She is spirited away by police officer Lt. Eddie Souther, to "inconspicuously" hide out in a convent for her protection. The rigid discipline, minimalist lifestyle and sans-sequin couture don't jive with Delores' fast-lane lifestyle. Delores chaffs at the rules, while chaffing the Mother Superior's patience down to her wimple. Failing miserably at most chores given to her at the convent, Delores is assigned the monumental challenge of trying to make the nun's atonal choir produce something akin to music. Fortunately, the Mother Superior couldn't have chosen a better candidate to produce success. Delores ends up putting bodies on benches, raising Cain right up to the Pope, and attracting media--as well as her gangster boyfriend's--attention.
In this version of Sister Act (book penned by Cheri and Bill Steinkiller, Lyrics by Glenn Slater and Music by Alan Menken), the action takes place in Philadelphia in 1977. Several of the songs give a nod back to the male bands of the late '70s with their tight, silky harmonies. Other songs are sheer, robust Broadway. This combination is perfect for the vocally adept cast who, under the expert musical direction of Don Kot and with the accompaniment of a superb orchestra, transforms the music into pure vocal gold. Kudos to Director and Choreographer Julio Augustin who masterfully weaves dance, drama, music and madcap situations into a memorable evening of pure, unadulterated fun.
As the plot unfolds—especially during the song "It's Good to Be a Nun," reverence clashes divinely with irreverence, and the audience comes out the ultimate winner in this musical comedy. Danielle J. Summons dazzles as dynamic Disco Diva Delores Van Cartier. As the Mother Superior who gets her rosary in a twist over Delores hiding out in "her" convent, April Armstrong is sublime. The two play brilliantly off each other's lush voices and delightful comedic timing. They are surrounded by a powerhouse cast. Although each of the nuns is dressed in cookie cutter black-and-white and named Sister Mary Something-or-other, each character has her distinctive standout personality and voice. And by the way, don't let the initially demure postulate Sister Mary Robert (Quynh-My Lu) fool you. There is a whirlwind of talent packed into that petite person, that explodes on stage once the time is right.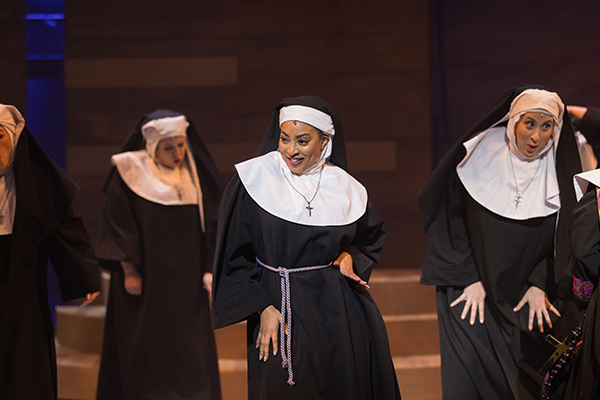 As Delores' mob boyfriend Curtis, Alex Gibbs wins the audience's distaste from the moment he oozes onto the stage, surrounded by his three groveling gangster stooges, convincingly portrayed by Nat Lopez, Juwon Tyrel Perry and Khalid Rivera. Thank goodness good guy Lt. Eddie Souther, who has been in love with Delores since high school and is determined to get his gal, balances good against evil! And as the opportunistic and beboppin', foot tappin' Monsignor O'Hara, Tim O'Connell deserves his robes!
Sister Act pays testament to the power of love, friendship, community and looking to the good in others. This is a fine finish to Geva's 49th Season, as demonstrated by Geva's opening night crowd standing up in ovation before the lights come down for the curtain call. So, if you are looking for a delightful, uplifting evening of laughter, fun, and great music, don't miss this show!
Sister Act can be seen at Geva Theatre through Saturday, July 24. Masks are required, but you do not need to show proof of vaccination.
P.S. Some language may be inappropriate for children and pre-teens.
All photos by Ron Heerkens Jr. 
---
 Carol White Llewellyn is the Editor of Beyond the Nest.