Beyond The Nest Reviews the NYS Chinese Lantern Festival
by Carol White Llewellyn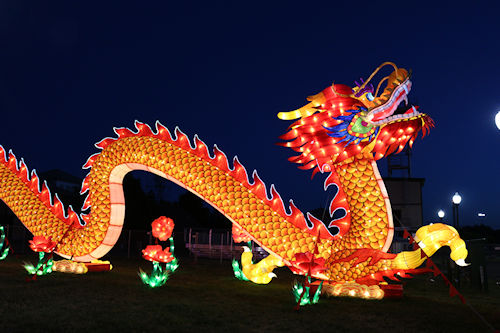 While in Syracuse picking up one of my daughters to come home for Father's Day, we decided to visit the NYS Chinese Lantern Festival. My daughters are of Chinese heritage, so we've always tried to expose them to Chinese cultural events, and this is one of our favorites.
More than 30 artisans, engineers, and a lead designer from Zigong, China worked together to create these beautiful sculptures. The figures are first drawn in colored chalk on pavement, then the steel artisans start to work, creating the skeletons. Next, the electricians take over, and finally, the artisans put the fabric and details in place. The whole process takes around four weeks to complete.  Learn more about how the sculptures are created here.
We got to the Fairgrounds around 6:15 pm, grabbed a bite to eat at Yakisoba's Noodle & Teriyaki stand, then went to the 7 pm performance (included with admission) in the International Building. This show features amazing entertainers...jugglers, acrobats and a young woman who practices the ancient Chinese art of "facechanging."  For those who would like a souvenir, a modest selection of Chinese crafts are available for sale inside this building. 
We then wandered through a garden of hundreds of stunning creations that ranged from flowers and animals, to Chinese zodiac archways and tunnels of love. We found that the best time for photos was right after sunset (around 8:45 pm), and before it gets so dark that a tripod is required for good photos. 
This is a fascinating exhibit for all ages, and it runs through July 1 at the NYS Fairgrounds in Syracuse, NY. Free parking is available at Gate 2. Tickets are $12.50 for children ages 5-16,  $14 for Seniors (60 and over), and $15.50 for adult. If you purchase tickets onsite, the ticket price is $.50 more. Handicap accessible parking is available, and the lanterns are displayed along paved pathways and inside the International Building, making wheelchair, walker and stroller access easy. Those needing a wheelchair or scooter should bring theirs, as they are not available to rent onsite. Credit cards are accepted for admission, but some of the vendors are unable to accept them, so be sure to bring cash.
The Festival is open Tuesday, Wednesday, Thursday, and Sunday from 6–10 pm, and Friday and Saturday from 6-11 pm.  It runs through July 1. This festival presents a garden of deLIGHTS you won't want to miss! 
A Travel Minute: New York State Chinese Lantern Festival from CAROL WHITE LLEWELLYN on Vimeo.
---
Carol White Llewellyn is Editor of BeyondTheNest.com and the host and producer of Conversations with Creatives, a cable and online TV program that explores the arts and celebrates artists and their work.