Beyond the Nest's Review of Geva's Sex with Strangers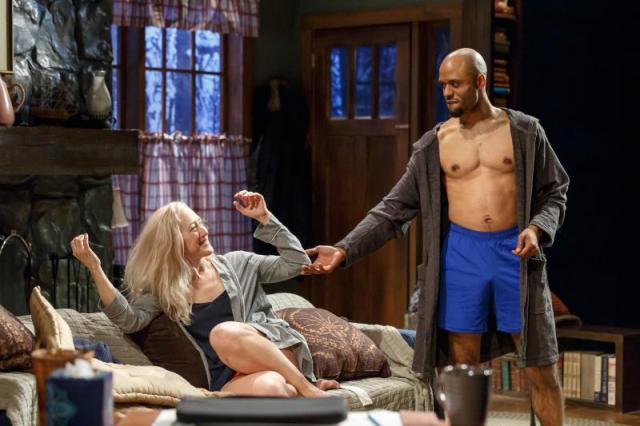 by Carol White Llewellyn
Racy!" the woman behind me whispered as clothing was sensually being peeled off onstage in Geva Theatre Center's production of Sex with Strangers. This drama, with its generous dollop of humor and tasteful steaminess, directed by Rachel Lampert and presented in partnership with the Kitchen Theatre Company in Ithaca, NY.
As the scene opens on a homey cabin, we find 39-year-old Olivia, portrayed by LeeAnne Hutchison, curled up on the sofa in the middle of a snowstorm, working on her novel. Enter from blizzard, Darian Dauchan as Ethan, a 20-something blogger who has made his reputation writing about his weekly exploits and one-night stands. Upon first encounter, the two appear to be diametric opposites. Olivia comes across as a smart, inflexible academic with high-minded literary standards and fragile self-esteem. Ethan, in contrast is fast-talking, tech-savvy and wields his words, body and salacious reputation like a gun-slinger.
Soon, amid disputes over the relevance of their respective works and the future of literature, sparks of sexual tension fly between Olivia and Ethan.
The thing about having sex with a stranger is that you never need to reveal your true self. The persona you have created – in real life or online – remains intact. Ethan has built his popularity and public image on that. But once a one night stand becomes more, and the desire to be seen as multi-dimensional arises, the lines between fallacy and fact blur, Therein lies the intriguing consequences.
This play is ripe with ambiguity. It demands that we ask ourselves how certain one can ever be about another's personality, motive, or loyalty. From the moment their clothing starts peeling off, so do the layers of veneer each character wears as a disguise. As Olivia and Ethan emerge from the bedroom after their first tryst, we see that both of their personalities have changed…. Or have they? Are we seeing a new facet of each individual, or is this simply a new mask, designed to enrapture?
Throughout the play, phones, computers and electronics become an increasingly intrusive force. The very tools we think of as friendly instruments of communication also turn out to be tools of betrayal, equally adept at camouflaging our true identity, as they are at stripping away our disguise.
That need to conceal the secrets of who we really are explains how these two strangers can share the intimacy of sex, but be terrified to share the intimacy of their writing.
Ms. Hutchison and Mr. Dauchan breathe fire and ice into two complex characters created by playwright Laura Eason. As each peels back another layer of personality, they brilliantly convey the ambiguity within. We're not quite sure whether to admire or dislike them, to trust or doubt their word, whether the character we're seeing is genuine or fraud Even the ending leaves a delicious and tantalizing taste of steamy, unfinished tryst.
---
Sex with Strangers runs through April 30, 2017 at Geva Theatre Center. Tickets and more information are available at Gevatheatre.org.
---
©2017, BeyondTheNest.com
Carol White Llewellyn is editor of BeyondTheNest.com.
Photo: of LeeAnne Hutchison & Darian Dauchan in Sex With Strangers. Photo by Dave Burbank.