A Taste of Beyond Van Gogh
-by Carol White Llewellyn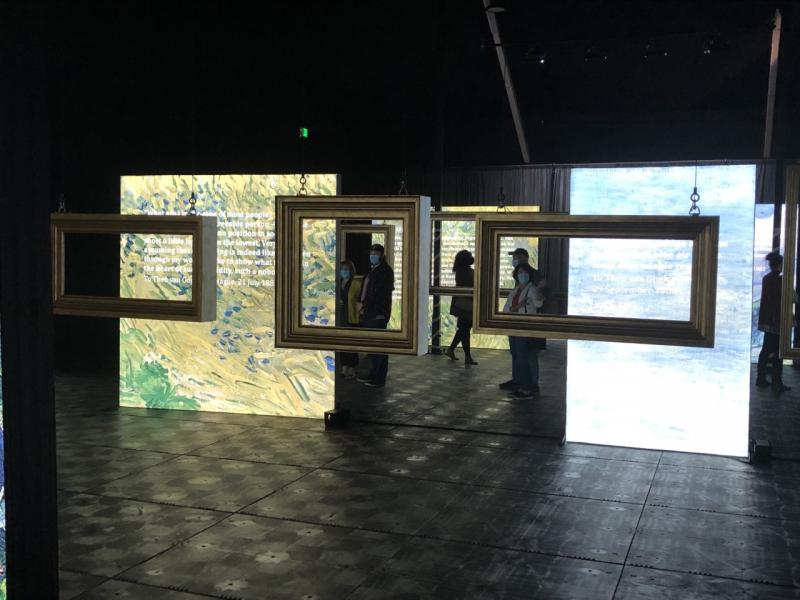 The exhibit Beyond Van Gogh opened earlier this year at the Starry Night Pavilion at Eastern Hills Mall in Williamsville, NY (a part of Buffalo) and I regret not having been able to get there soon.
This amazing exhibit is a touching, immersive journey into the life and work of Vincent Van Gogh, a Dutch artist who spent much of his career in France. 
The entrance hall to the exhibit beautifully shares the history of Van Gogh's life, from his unsuccessful forays into becoming, first, an art dealer, then a preacher, and at last, an artist who was barely recognized during his own time.
Plagued throughout his life by self-doubt and severe depression, his tortured spirit often shows on the faces of the portraits he painted. Unable to afford models, his portraits focus on friends and family members, the working class, and often, himself. Through a brilliant stroke of this exhibit, the paintings contain a lifelike aspect through which you almost "see" the subject behind the painting come to life.
One of the few people with which Van Gogh had a lifelong relationship was his brother Theo, who was one of his very few champions. Vincent wrote to his borther frequently, and because his brother saved the many letters he received, Vincent's words to Theo are testment to the man behind the madness that finally overtook him at age 37.
In the meantime, his gift to the world  was an extraordinary wellspring of stunning post-impressionist paintings that encompassed portraits, floral arrangements, buildings, landscapes, and a perspective on nature unlike any other. In asmuch as you see his torture in the portraits of people with whom he so desperately wanted to connect, you see solace and beauty in his paintings of nature, through which he was able to escape.
The exhibit is brilliantly executed using innovative projection technology, and no photos or video can do justice to the experience of being immersed in his work...of having pencil drawings bloom into color, brush strokes overlay one work until the second appears, or having the petals from a tree begin gently wafting across the room and slowly turn into a swirl of floating white. And yet, every one of us in that room strove to take the experience home with us. As each section of work transitions one to the next, the music transitions to match the ambience created by the work. (Note that the music used is not captured in the video below).
As I absorbed the exhibit and looked around to see everyone else equally enraptured and mesmerized, I wished the artist were able to see the impact his work has had on so many. The madness that drove him to be so prolific and that alienated him from so many with whom he would have liked a relationship, has given birth to an exhibit that is a revalation.
Due to the popularity of this exhibit, its deadline has been extended through October 31, but if you want to catch it, book quickly as tickets are selling fast! Ticket prices range from $28.99 for children to $93.99 for VIP tickets. Timed entraces are between 10 am and 9 pm Tuesday through Saturday, and 10 am and 8 pm on Sunday. Please note that masks are required.