ADP Helmet Heroes Virtual Races
Virtual ADP Helmet Heroes Races Fundraiser! Choose to participate in a 1 Mile, 5k, 10k or 15k Race. Virtual Race for the Entire Family for the Entire Month of MAY! Run Anywhere you choose. Packet Pick-up available that includes Unique Athletic Event Tank. For more information or to Register: HelmetHeroesRun.ItsYourRace.com & www.ADP5K.com . Bid & WIN!! Online Silent Auction for the first week of the Race: www.32Auctions.com/ADPRaces . All proceeds to benefit the Hickok Center
---
Please help us keep this calendar up to date! If this activity is sold out, canceled, or otherwise needs alteration, email mindy@kidsoutandabout.com so we can update it immediately.
---
Virtual ADP Helmet Heroes Races Fundraiser!
Choose to participate in a 1 Mile, 5k, 10k or 15k Race. Virtual Race for the Entire Family for the Entire Month of MAY!
Run Anywhere you choose. Packet Pick-up available that includes Unique Athletic Event Tank.
For more information or to Register: HelmetHeroesRun.ItsYourRace.com & www.ADP5K.com .
Bid & WIN!!  Online Silent Auction for the first week of the Race: www.32Auctions.com/ADPRaces
All proceeds to benefit the Hickok Center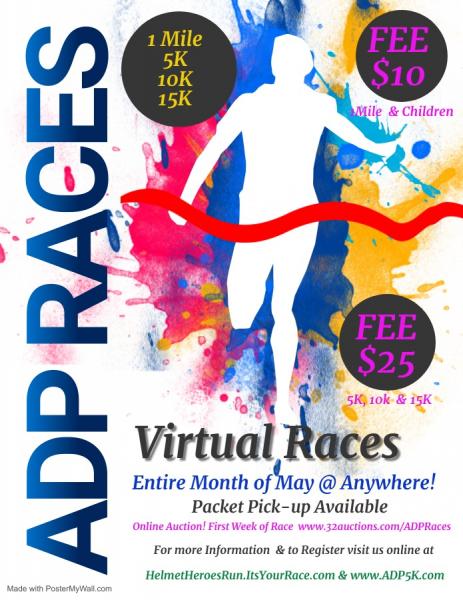 ---
*Times, dates, and prices of any activity posted to our calendars are subject to change. Please be sure to click through directly to the organization's website to verify.
---
Time:
Anytime the Month of May for Races, Auction: May 1st @8am through May 8th@9pm
Price:
$10 for Kids & 1 Mile, $25 for Adults in all other races. Includes Athletic Top
Ages
All Ages
Adults & kids together